Before and After Rhinoplasty Photos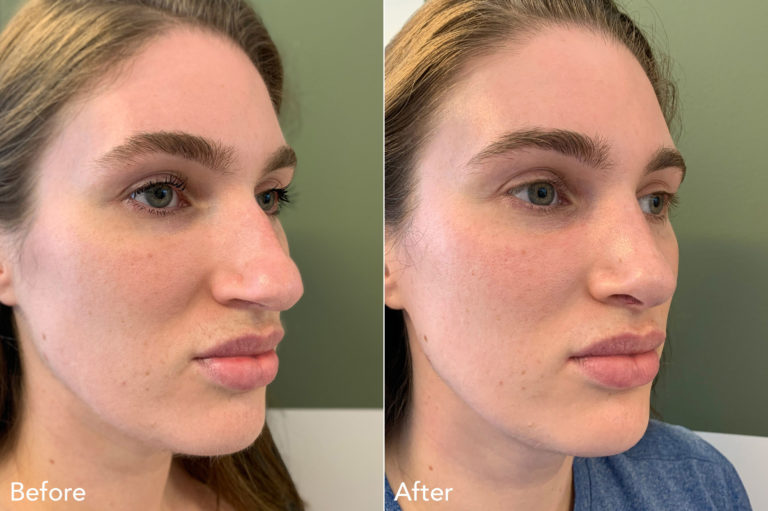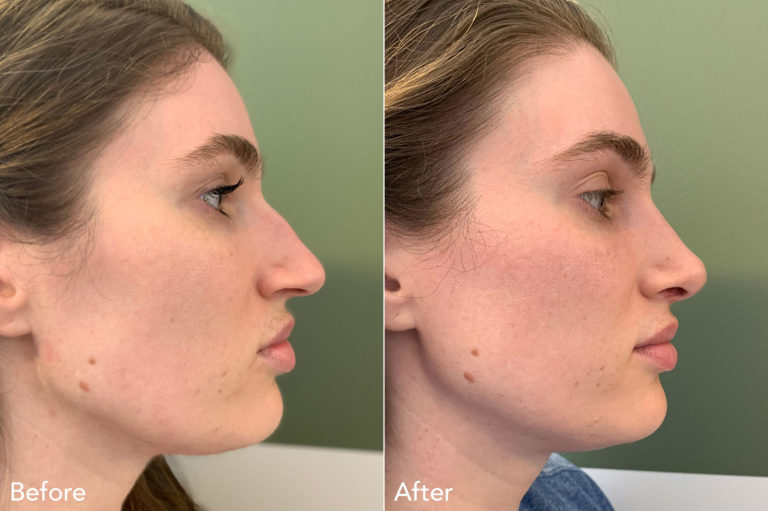 * All patients are unique and individual results may vary.
What is Rhinoplasty?
Rhinoplasty is surgery is for people who are dissatisfied with the appearance of their nose. The nose is the central structure that sits between the upper and lower parts of the face. The nose should blend in with the rest of the face and not catch the eye. A nose that is not balanced with the face pulls attention away from a persons other attractive features. Rhinoplasty can improve both the form and function of the nose. Common reasons for patient's to seek out rhinoplasty include:
Removing a bump
Refining a bulbous tip
Changing the size of the nose
Improving breathing
Straightening a crooked nose
Narrowing wide nostrils
Why Choose Rhinoplasty?
Some patients have been dissatisfied with their nasal appearance for years while others have suffered nasal trauma in the past which has left them with an undesireable nasal appearance and function. Perhaps you have had a prior rhinoplasy and are not completely satisfied with the results. Rhinoplasty is a fantastic option for these problems. While we offer non-surgical options aka "liquid rhinoplasty" at Lozada Facial Plastic Surgery, nothing equals the changes that can be achieved with rhinoplasty surgery. Studies have shown that changes in nasal appearance can significantly boost patients self confidence. Rhinoplasty can be a life changing surgery for the right patients!
Am I a Candidate for Rhinoplasty?
Good candidates for Rhinoplasty Philadelphia are healthy, non-smoking patient's who have specific concerns about their nasal appearance and/or breathing. Common goals for a Nose Job include bringing down a bump, lifting and refining the tip, narrowing a wide nose, and changing the size of the overall nose. Patient's with realistic surgical goals are ideal for this procedure. Patients who have had previous rhinoplasty and are dissatisfied with the results are also good candidates for a revision surgery. Dr. Lozada has extensive training and experience in revision rhinoplasty surgery.
The Rhinoplasty Consultation
Our Rhinoplasty consultation begins with a discussion about the goals for surgery. Dr. Lozada takes the time to understand what the patient's concerns are and what has led up to them presenting to the consultation. Dr. Lozada will then examine the external and internal components of your nose and discuss his findings with you. Next, state of the art 3-D photographs are taken with the Vectra imaging system and analyzed using the advanced morphing software. This software program allows real-time morphing during the consultation to demonstrate proposed changes. Dr. Lozada will share before and after photographs of previous patients to help illustrate actualy surgical results. Finally, Dr. Lozada will develop a personalized surgical plan for you. Questions are encouraged throughout the entire consultation process, Dr. Lozada loves engaged patients!
Preparing for Rhinoplasty Surgery
Prior to your surgery you will come to the office for a pre-operative visit with Dr. Lozada. He will review your personalized surgical plan and ensure all your questions are answered. Detailed pre-operative and post-operative instructions including care and activity restrictions will be provided at this time.
The Rhinoplasty Procedure
Rhinoplasty is an outpatient procedure and is done under general anesthesia. Dr. Lozada has extensive training in multiple different rhinoplasty techniques and tailors his approch to each patient's case. He specializes in both endonasal "scarless" as well as open rhinoplasty. During the procedure, the cartilage and bony structures of the nose are accessed via specialized incisions. The bone can be shaped with special tools and the cartilage may be removed, re-shaped, or augmented. Specific cases may require additional cartilage from either the septum or ear. At the conclusion of the procedure a splint is placed on the nose which is left in place for approximately 4-5 days. Dr. Lozada does not routinely place packing inside the nose after rhinoplasty surgery.
Recovering from Rhinoplasty Surgery
Recovery from rhinoplasty is highly variable depending on the type of procedure performed. Swelling and bruising are expected with the mjaority subisiding within two weeks. Patient's may experience some discomfort after the procedure but high dose pain medication is not required. Nasal saline sprays are encouraged to keep the nasal passages open. Any bruising around the eyes is easily conceled with makeup for the first week after surgery. Patients are expected to take it easy for the first week and thereafter may return to work. The cast and sutures are removed around 4-5 days after surgery. Patients are instructed not to perform exercise or heavy lifting for a period of 2 weeks after surery. The majority of the swelling has subsided 2-3 weeks after surgery but small amounts of swelling continue to subside weeks after the Nose Job. The nose continues to heal for months after rhinoplasty and results are not considered final until a year after surgery.
Frequently Asked Questions About Rhinoplasty
How do I know rhinoplasty is right for me?
We encourage you to schedule a consultation to determine if rhinoplasty is right for you! Dr. Lozada will perform an in depth examination in conjunction with 3-D photography to demonstrate your desired results. Every patient is different and many factors including age, skin type, ethnicity, prior surgery, and medical history all play a role in determining if their a good candidate for rhinoplasty.
What is "scarless" Endonasal Rhinoplasty?
Endonasal Rhinoplasty is an advanced technique that places all the incisions inside the nose with no external scar visible after surgery. These special incisions give access to the bone and cartilage structures of the nose and allow surgical modification to give the desired result. Typically patients have improved post-operative course with less bruising, swelling, pain, and allows them to get back to life quicker. Not everyone is a candidate for endonasal rhinoplasty and Dr. Lozada will discuss this with you during your consultation.
What is Open Rhinoplasty?
Open Rhinoplasty involves a small incision at the base of your nose which then allows direct access to the bone and cartilage structure of the nose. The incision is in an area that is not a visible portion of the nose and the scar heals beautifully and are imperceptible months after surgery. Open rhinoplasty is well suited for cases involving large amounts of nasal tip work, extensive structural grafting, and revision rhinoplasty cases.
What types of grafting material do you use?
Rhinoplasty commonly uses cartilage grafts during surgery to achieve desired results. Grafting is not always required and Dr. Lozada will discuss if this is anticipated in your specific case. Cartilage is most commonly harvested from the septum during septoplasty and this can be carved into many different types of grafts. In some cases, cartilage is required from the ear and/or rib. These are specialized cases and this will be discussed during your consultation with Dr. Lozada. Grafts are made to not be seen or felt after surgery and are used to help achieve the desired end result.
Do you always perform a Septoplasty during Rhinoplasty?
Septoplasty is a surgery that removes a portion of the cartilage and/or bone in the middle of the nose separating the two nasal cavities. While it is not always performed, it is common for patients to have breathing complaints and a septoplasty can greatly approve the function of the nose. If septoplasty is performed, a portion of cartilage and bone is removed while leaving a large portion remaining to support the top and tip of the nose.
What factors effect my end result in rhinoplasty?
Multiple factors effect the end results of rhinoplasty surgery. Skin thickness, scar tissue, ,prior surgery, age, smoking history, and a patients medical history are all important factors that play a critical role in achieving the desired result. The most important thing is to be aware which factors are at play in each specific case. Dr. Lozada's practice emphasizes patient education during all his consultations and each patients unique case is thorouhgly discussed before he enters the operating room.
Do you have to break my nose during surgery?
Osteotomies aka "breaking the nasal bones" is commonly performed to narrow wide nasal bones as well as to close an "open roof" after a bump has been remove. While it is not always performed, it is common. This is accomplished in a very minimally invaisve and controlled fashion using specialized surgical instruments.
How old do you have to be to get rhinoplasty surgery?
Dr. Lozada performs teenage rhinoplasty in the right patients. Typically it is advised that the patient have finished their growth spurt which is usually between 15-17 years of age. If you or your teen are interested in learning more please contact the office and set up a consultation with Dr. Lozada.
Do you put nasal packing after rhinoplasty?
Dr. Lozada does not routinely put in nasal packing after rhinoplasty. This means there is no post-operative removal of packing from the nose after surgery. This provides a more comfortable experience for the patient while they are healing from their procedure.
Why is a chin implant performed during rhinoplasty?
The nose and chin are critical in providing balance for the overall face. There are cases where a chin implant alone provides aesthetic balance and makes the nose less noticeable. Results of chin augmentation can be demonstrated during the consultation using the morphing software. In select candidates, rhinoplasty and chin implant surgery combined give dramatic results in the overall appearance of the face.
Dr. Lozada is a Facial Plastic & Reconstructive surgeon and Otolaryngology Head & Neck Surgeon. Dr. Lozada is committed to providing the highest quality aesthetic and reconstructive services for all his patients in Philadelphia and New Jersey. At our office a personalized treatment plan is essential and we allow sufficient time during consultation to develop a unique understanding of each patient's desires. Dr. Lozada completed his fellowship at the University of Pennsylvania and has trained with the top Facial Plastic Surgeons in Philadelphia, New York, and New Jersey. Dr. Kirk Lozada is currently a member of the American Academy of Facial Plastic & Reconstructive Surgery and has numerous publications and presentations in the field of facial plastic surgery. Contact the office for your consultation today!