Before and After Blepharoplasty Surgery Photos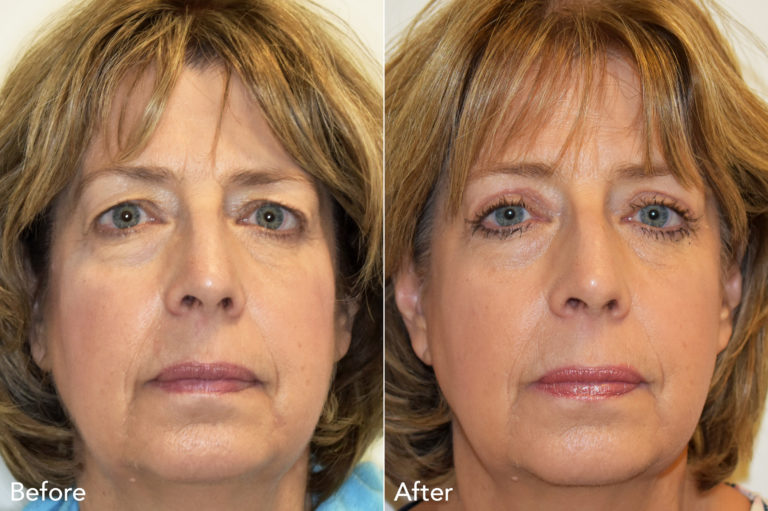 * All patients are unique and individual results may vary.
What happens to the eyes during the aging process?
The eyes are one of the most noticeable areas of the face and one of the first to show signs of the aging process. Patients seeking eyelid surgery frequently complain of a "tired" or "angry" look.
As we age, the skin and muscle around the eyes lose their natural elasticity. This allows fat from around the eye to protrude out. The end result is excess skin which gives a heavy and tired appearance to the eyes as well as protruding fat which cause the eyelid "bags".
An eyelid lift (blepharoplasty) addresses the components of the skin, muscle, and fat that are problematic.
Effective Blepharoplasty gives a rested and rejuvenated appearance to the eyes with no signs that any surgery has been done.
Are there non-surgical options?
For select patients, temporary hyaluronic acid fillers can help treat the early signs of aging around the eyes. By adding small amounts of volume to specific areas around the eyes, we can camouflage areas like the tear trough of the lower eyelid. However, fillers will not remove excess skin and/or fat. It can only add volume. Therefore, patient selection for non-surgical rejuvenation of the eyelids is paramount.
Upper Eyelid Blepharoplasty
Rejuvenation of the upper eyelid typically involves removal of the excess skin that folds over the upper eyelid. This excess skin, termed dermatochalasis, obscures the natural upper eyelid crease that is a sign of youth. The correct amount of skin to be removed is carefully measured and marked before the operation. Typically, only the excess skin is removed. Occasionally a small portion of the underlying muscle is removed as well. If necessary, a small amount of underlying fat is removed. The incisions are closed using fine sutures which leave a nearly invisible scar hidden in the crease of the upper eyelid.
Lower Eyelid Blepharoplasty
Rejuvenation of the Lower Eyelid is more intricate than the upper eyelid. Similar age-related changes occur in the skin and muscle as well as herniation of orbital fat. However, the lower eyelid serves a critical function in keeping tears on the globe, ensuring proper lubrication. Thus, preserving function of the lower eyelid is critical during this operation. Dr. Lozada commonly performs Lower Eyelid Blepharoplasty with hidden incisions within the lower eyelid (transconjunctival) or with incisions just below the lash line (subciliary). These allow removal of excess skin and fat to give a more natural appearing eyelid complex. The approach utilized is tailored to each patient's anatomy and surgical goals.
Can You Fix the Tear Trough with Blepharoplasty?
A common complaint is the tear trough or Lower Eyelid "hollow" that gives a tired appearance. This occurs as we lose volume in our cheeks and midface over time. To fix the volume loss, we re-volumize the area with something. One option is to use fat. In fat transfer surgery, fat is taken from the abdomen or thigh, processed, and then injected in these specific areas to replace the volume. Fat transposition is another option where instead of removing the herniated orbital fat around the eyes, it is moved to the area where volume is needed and secured. Both options effectively treat the tear trough and give very natural results.
Recovering from Blepharoplasty Surgery
The First 24 to 48 Hours After Your Surgery
Immediately after surgery you will have ice packs placed over your eyes for comfort. Bruising and swelling are common immediately after blepharoplasty surgery with swelling typically peaking around day three. Cool compresses and head elevation can greatly help the minor discomfort and improve the swelling that occurs. This is not a painful procedure and patients typically only need non-narcotic medicine. All patients after blepharoplasty receive eyedrops to keep the eyes lubricated and ointment to place on all incisions.
The First 2 Weeks After Surgery
The bruising and swelling should be mostly resolved a week after surgery at which time any sutures that were placed will be removed in the office. Any minor bruising can be covered with makeup. Lubrication with eye drops will continue for the first week until your post-operative visit. Avoidance of strenuous activity for a period of 2 weeks after surgery is advised but can be resumed after your post-op visit.
Eyelid Surgery FAQs
Am I a Candidate for Blepharoplasty?
You may be a candidate for Blepharoplasty Surgery if you notice a more tired or angry look to your eyes. Additionally if you have "bags" below your eyelids or loose skin, this may help rejuvenate and refresh your appearance. During the consultation, Dr. Lozada will listen to your concerns and devise an individualized surgical plan based on your anatomy.
Can Blepharoplasty Surgery be Covered by Insurance?
When excess upper eyelid skin hangs over the lid so much that it affects a patient's vision, it becomes a medical issue that requires correction. Therefore, if a patients vision is improved with the eyelid skin taped in a lifted position, their insurance company will typically cover that portion of the procedure. 
Can Blepharoplasty be combined with other surgeries?
Blepharoplasty is commonly done with other procedures of the face. Combining Eyelid Surgery with a facelift gives the most dramatic rejuvenation for the right patients. Additionally, Dr. Lozada may highlight a drooping of the eyebrow as a cause of a tired appearance which can be treated with a Browlift procedure. Combining Blepharoplasty and Browlift procedures is safe and commonly done.
Dr. Lozada is a Facial Plastic & Reconstructive surgeon and Otolaryngology Head & Neck Surgeon. Dr. Lozada is committed to providing the highest quality aesthetic and reconstructive services for all his patients in Philadelphia and New Jersey. At our office a personalized treatment plan is essential and we allow sufficient time during consultation to develop a unique understanding of each patient's desires. Dr. Lozada completed his fellowship at the University of Pennsylvania and has trained with the top Facial Plastic Surgeons in Philadelphia, New York, and New Jersey. Dr. Kirk Lozada is currently a member of the American Academy of Facial Plastic & Reconstructive Surgery and has numerous publications and presentations in the field of facial plastic surgery. Contact the office for your consultation today!