Otoplasty in Philadelphia, PA
Ear surgery is a commonly performed cosmetic surgery to correct developmental abnormalities of the ear(s) in both children and adults. Patients that feel they have large ears or misshapen cartilage may benefit from otoplasty or ear reduction surgery. Dr. Lozada will go over the areas of concern and discuss potential surgical options in our Philadelphia office.
Elevate Your Profile with Outstanding Otoplasty Benefits
Otoplasty is a transformative journey that fine-tunes the symmetry of the ears, aligning them beautifully with one's facial profile. This surgery is the answer to enhancing the aesthetics of the ear, promoting a harmonious balance and boosting individual confidence.
1
Symmetry Perfected
Attain a harmonized facial appearance with well-balanced ears, enhancing overall aesthetics.
2
Boosted Self-Assurance
With ears sculpted to your liking, walk the world with renewed confidence.
3
Tailored Results
Enjoy the benefits of a procedure customized to your unique desires, ensuring natural-looking outcomes.
Before and After Otoplasty Photos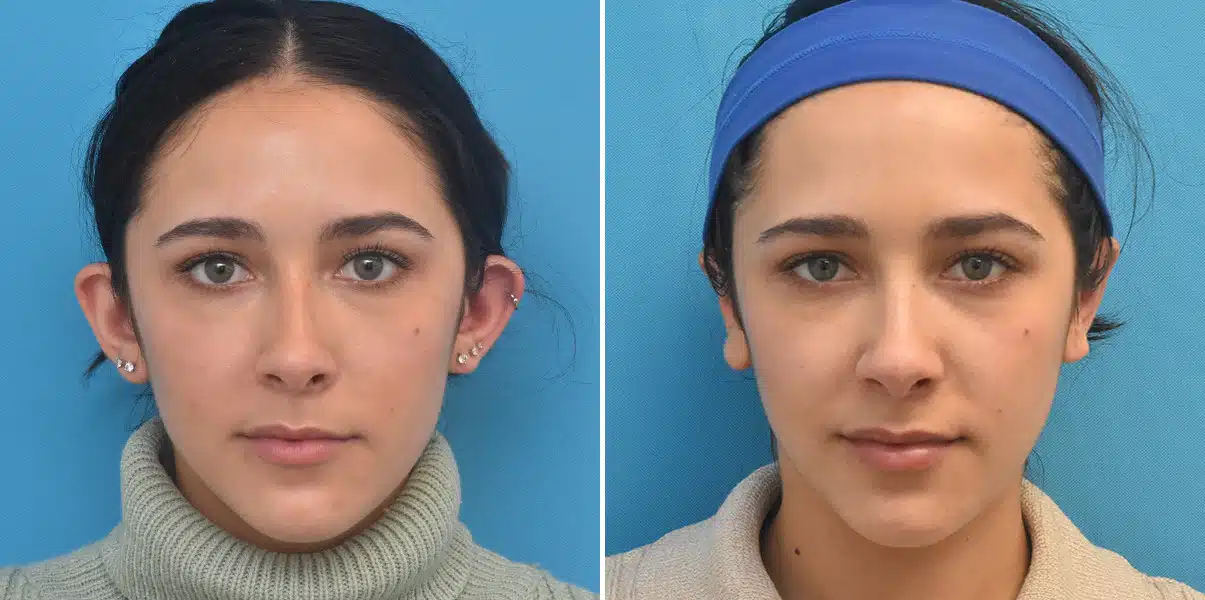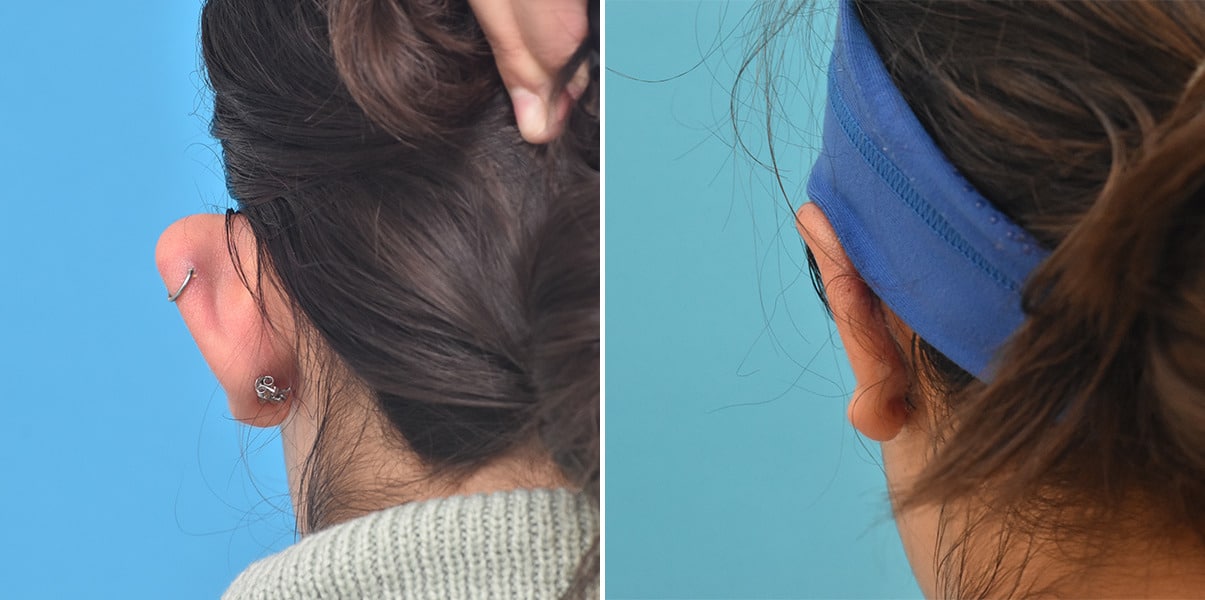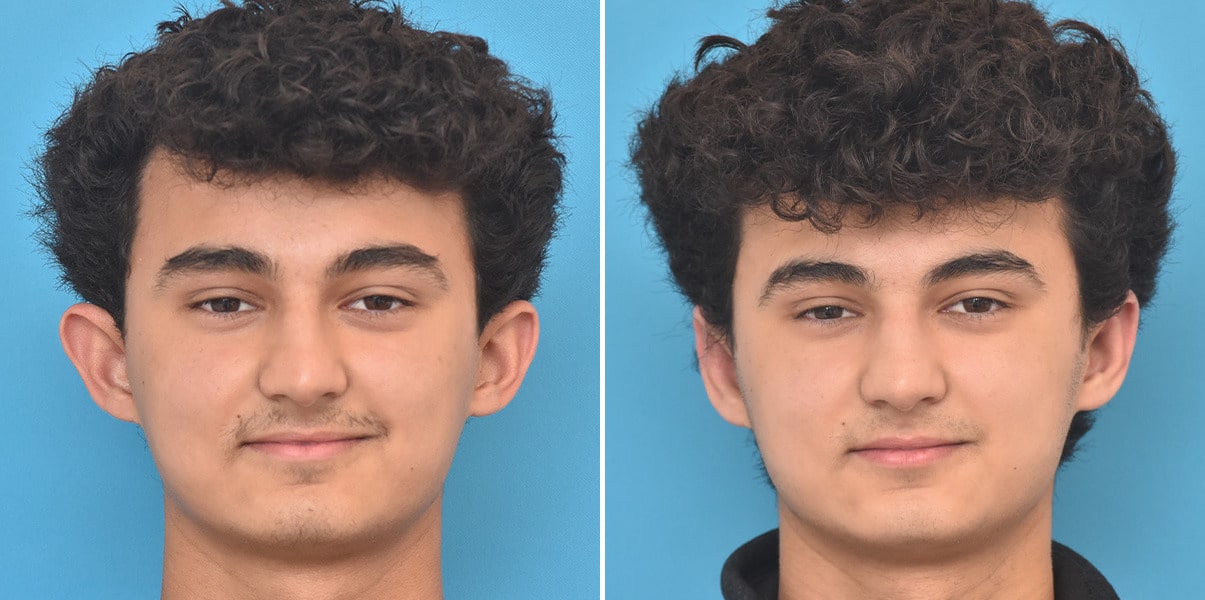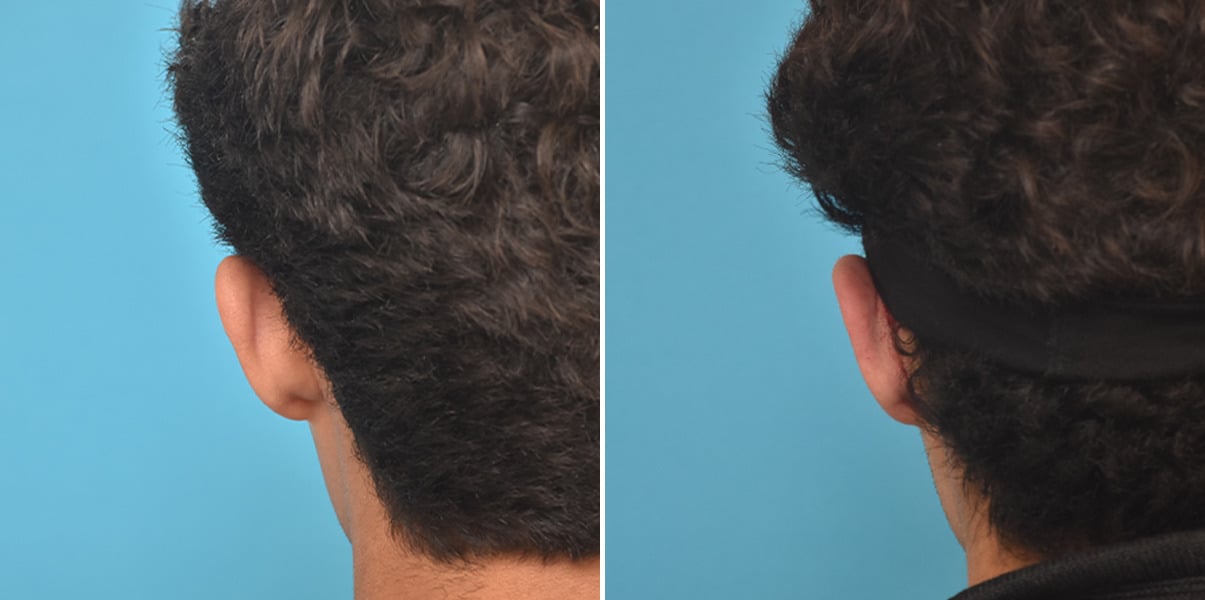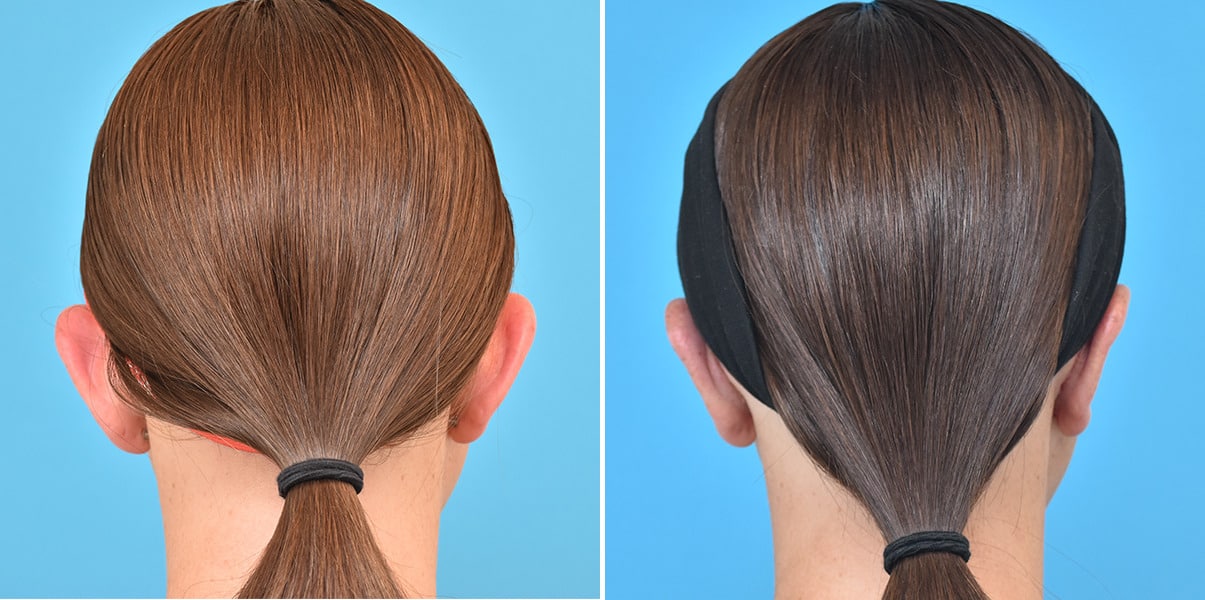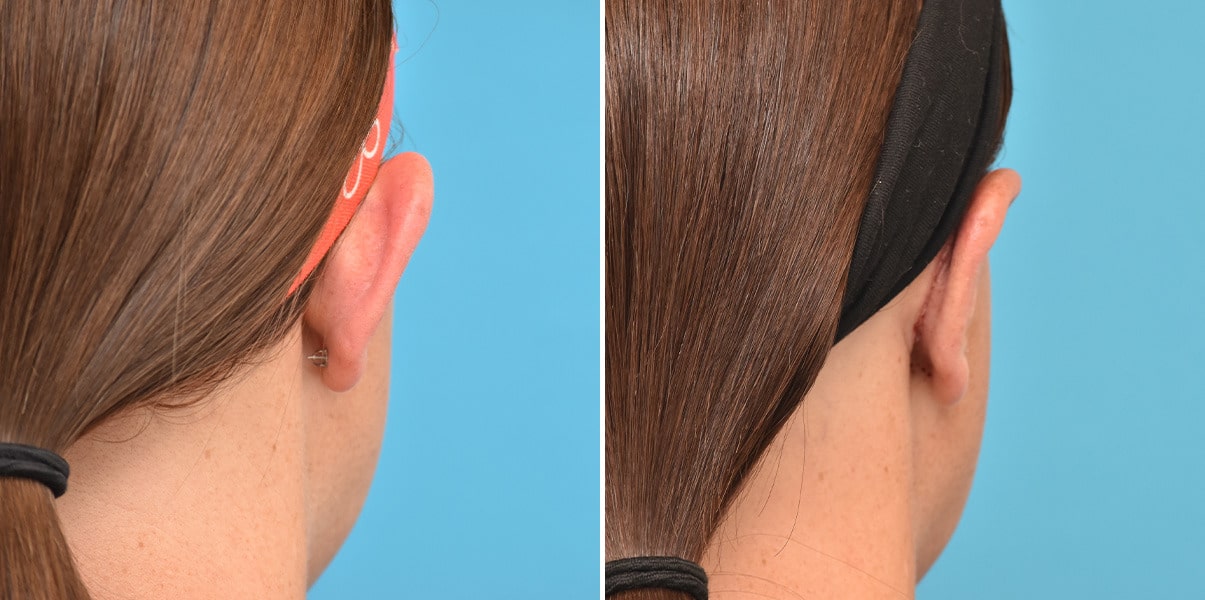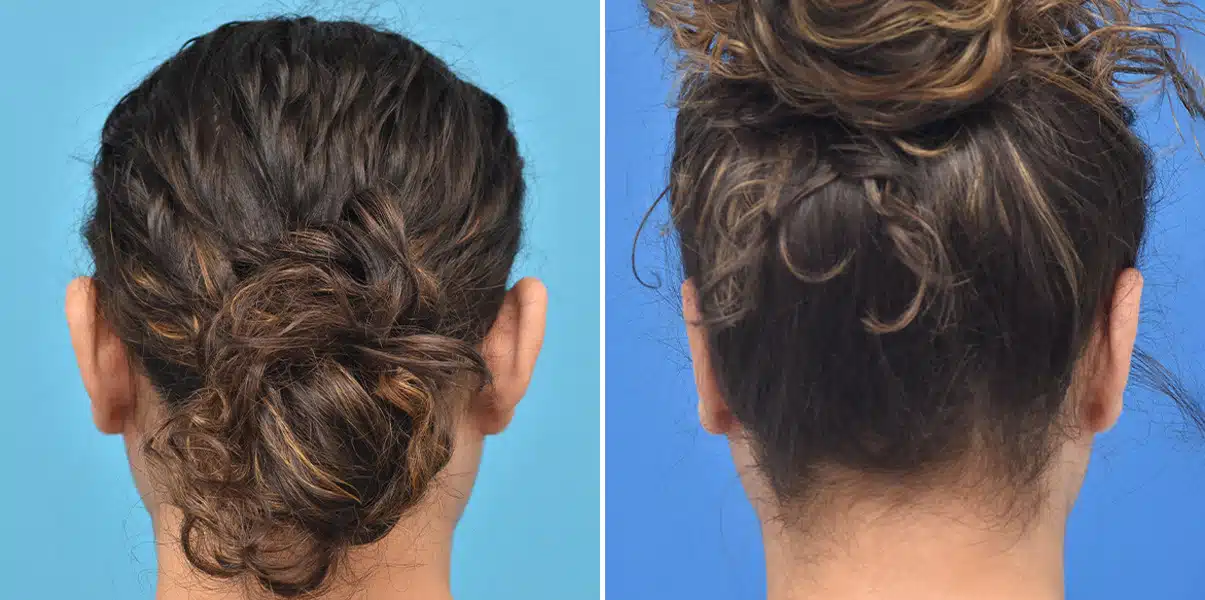 * All patients are unique and individual results may vary.
What is Otoplasty (Ear Reduction Surgery)?
Otoplasty, or "ear pinning", is done to reshape one or both ears. Ear surgery is a cosmetic surgery that we commonly perform to correct developmental abnormalities of the ear(s). Otoplasty also includes ear lobe reduction/repair and cauliflower ear surgery to reduce or recontour excess skin/cartilage.
Why Choose Otoplasty (Ear Reduction Surgery)?
The ears are a focal point of the face, because of this, prominent ears can effect patient's self esteem and confidence. The cartilaginous framework of the ear is subject to many types of developmental abnormalities including: lop ear, cup ear, and also stahls ear. Typically the surgery is performed in children between the ages of 4 and 14. The common problems fixed with otoplasty include ears that 1. Lack the fold along the inner part of the ear (anti-helical fold) as well as an ear that protrudes too far out from the head. Otoplasty surgery can re-create the natural folds of the cartilage and pin the ears back into a normal and less conspicuous position.
Need more information?
Call us or email us to make an appointment
Am I a Candidate for Otoplasty?
Patients that feel they have protruding ears or odd-shaped ears may benefit from otoplasty or ear reduction surgery. During the consultation, plastic surgeon Dr. Lozada will go over the areas of concern and then discuss potential surgical or non-surgical otoplasty options. We will make sure to answer any and all questions you have regarding the procedure as well as the recovery. So if you want to learn more about Otoplasty, please request a consultation.           
The Otoplasty Procedure?
We can perform Ear Surgery under local anesthesia or general anesthesia. The procedure usually lasts 1-2 hours. The surgeon places all incisions behind the ear and hidden. Internal sutures are the ones we use in order to reposition the ears, as well as to create the desired contour, shape, and position of the ear cartilage. There's the occasional need for us to excise excess cartilage to achieve a smaller ear size and get the ears closer to the head.
Recovering from Ear Reduction Surgery
We perform this surgery on an outpatient basis and patients go home the same day. The patient will have a dressing/head wrap in place that will come off the following day. They will then wear a head band for a few days after surgery and then only at nighttime for a few weeks. You should avoid strenuous activity for 2-3 weeks after surgery. Also, please avoid contact sports for 6 weeks.
The first two weeks after surgery you will see an improvement in the swelling and also bruising that can occur after surgery. After 1 week any residual bruising should be easy to conceal with makeup and patients generally feel more comfortable to be outside the house. Since this is an outpatient procedure, there are no restrictions aside from avoiding strenuous activity and exercise for 2 weeks after surgery.
Why Should I Choose Dr. Kirk Lozada?
Dr. Lozada is a Facial Plastic & Reconstructive Surgeon and Otolaryngology Head & Neck Surgeon. Dr. Lozada is committed to providing the highest quality aesthetic and reconstructive services for all his patients in the Philadelphia area and New Jersey.
At our office, a personalized treatment plan is essential, and we allow sufficient time during consultation to develop a unique understanding of each patient's desires. Dr. Lozada completed his fellowship at the University of Pennsylvania and has trained with the top American Board Certified Plastic Surgeons in Philadelphia, New York, and New Jersey.
Dr. Kirk Lozada is currently a member of the American Academy of Facial Plastic & Reconstructive Surgery and has numerous publications and presentations in the field of facial plastic surgery.
Otoplasty FAQs
How much does Otoplasty cost?
The cost of Otoplasty can range from $3,000 to $8,000. This cost can vary based on factors such as the surgeon's experience, geographic location, facility fees, anesthesia, and the complexity of the procedure. To obtain an accurate cost estimate for your individual case, it's recommended to consult with a qualified surgeon who can assess your needs and provide a personalized quote.
Is Otoplasty covered by insurance?
In most cases, otoplasty is considered a cosmetic procedure and is not typically covered by insurance. Insurance policies typically do not cover procedures that are performed for aesthetic reasons and are not considered medically necessary. However, if Otoplasty is being done to correct a congenital deformity or a medical condition that is causing functional problems, there may be exceptions where insurance coverage could apply. It's important to check with your specific insurance provider and discuss your situation with a qualified medical professional to determine whether your otoplasty procedure might be eligible for coverage.
How long does otoplasty take to heal?
The initial healing period after otoplasty, which is ear surgery to reshape or reposition the ears, typically lasts about 1 to 2 weeks. During this time, swelling and bruising may be present and gradually improve. Sutures are often removed within the first week. While you may be able to return to non-strenuous activities within a few days, it's advisable to avoid more vigorous activities that could strain the ears for several weeks. Full recovery and the final results can take a few months as residual swelling subsides and the ears settle into their new position. Your surgeon will provide specific aftercare instructions and a timeline tailored to your individual healing process.
Does otoplasty affect hearing?
Otoplasty, which involves reshaping or repositioning the ears, is primarily focused on the external appearance of the ears and should not have a direct impact on hearing. The surgery is typically performed on the outer ear structures and does not involve the inner ear or auditory system responsible for hearing. However, any surgical procedure carries some risks, and it's important to discuss any concerns you have about potential effects on hearing with your surgeon before undergoing otoplasty. It's also crucial to follow your surgeon's post-operative instructions to ensure proper healing and minimize any potential risks.
When is it safe to swim after undergoing otoplasty?
After otoplasty, it's generally recommended to avoid swimming and submerging the ears in water for about 4 to 6 weeks. This allows adequate time for the incisions to heal, reduce the risk of infection, and prevent complications. It's important to follow your surgeon's specific post-operative instructions regarding swimming and other activities to ensure optimal healing and the best possible results. If you have any doubts or concerns, it's always best to consult with your surgeon before resuming any water-related activities.