Before and After Filler Photos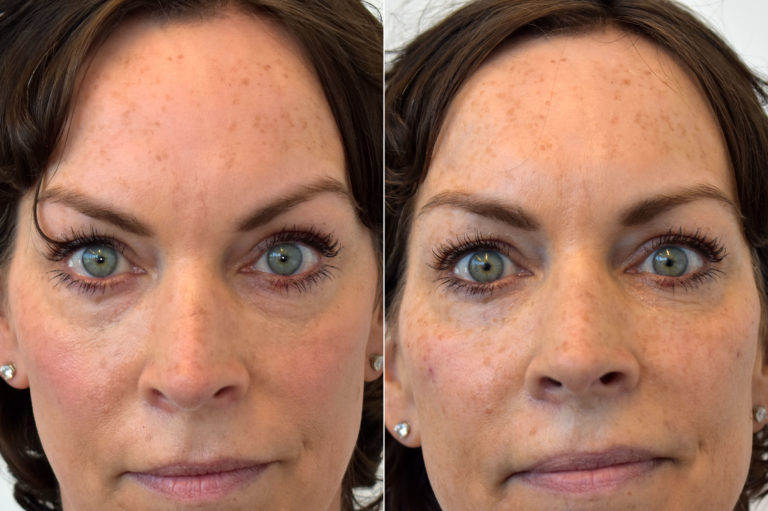 * All patients are unique and individual results may vary.
What is Hyaluronic Acid Filler?
Injectable Fillers are an extremely popular non-surgical treatment for correcting facial volume loss, fine lines, wrinkles, and deepening creases. Most modern day fillers are made of hyaluronic acid. Hyaluronic acid is a natural component of the skin and subcutaneous tissues in the human body. These products can be used to re-volumize specific areas of the face and neck and help turn back the aging clock.
There are many types of hyaluronic acid fillers including Juvederm, Juvaderm Voluma, Restylane, Belotero Balance, among many others. Injectable filler treatments are done awake in the office setting and results are noticeable immediately. There is no downtime and minimal to no post-operative bruising.
How Does Filler Help Correct the Aging Process?
One of the most important parts of the aging process is volume loss of the facial fat compartments. Before injectable fillers, the gold-standard treatment in re-volumizing the face was facial fat grafting. The first FDA approved hyaluronic acid filler, Restylane, sparked a revolution with injectable fillers now one of the most commonly sought aesthetic treatments.
Hyaluronic acid fillers are injected into specific areas of the face that have lost volume. By re-establishing volume, we can rejuvenate the appearance to a more refreshed and youthful look. The aging process begins in the eyes and around the mouth. As we continue to age we lose volume in the cheeks, temples, and jaw. Coupled with the descent of soft tissues due to gravity these give the classic signs of facial aging curve including flattened cheeks, deepening nasolabial folds, marionette lines, temporal hallowing, eyebrow descent, perioral (smokers) lines, and thin flat lips.
Not every patient is at the same point on the aging curve and cookie-cutter injection formulas do not yield consistent and natural results. Careful facial analysis with understanding where volume loss has occurred and where it should be replaced is a real skill. This will always be the most important factor in the ultimate aesthetic result for the patient.
The Filler Procedure
The planned areas of treatment are marked out by Dr. Lozada and if required topical anesthesia is given. Dr. Lozada then injects the desired areas with a needle or a cannula depending on the location. Most hyaluronic acid fillers contain lidocaine (numbing) inside thus as we inject the area it gets progressively numb. After the filler treatment Dr. Lozada will gently massage and mold the area if required. Patients can go home immediately after their treatment.
How long does it take Filler to work & how long does it last?
Hyaluronic Acid Filler results are immediate. The duration of the filler depends on a number of factors including the chemical properties of the filler as well as the area of the face injected. Typically areas with less facial movement (tear trough, nose) have a slower breakdown and last long in the body. Areas with more movement (lips, nasolabial folds, cheeks) will last a shorter period of time.
Frequently Asked Questions About Filler
What is the Consultation Process for Facial Fillers?
During the consultation areas of concern are highlighted by the patient. Dr. Lozada will perform a facial assessment and with the patient, formulate a plan to rejuvenate the face. Depending on the location, Dr. Lozada will choose a product(s) that will achieve the best result. Not all products are created equal and understanding the patient's anatomy as well as the rheology (filler science) of each filler is critical. Sometimes injecting an area that is seemingly unrelated to the area of concern is suggested by Dr. Lozada. This is because the fat compartments of the face influence one another and injecting something seemingly far away can indirectly improve the area of concern. A classic example is volumizing the cheeks and midface before filling the tear trough depression. After effectively volumizing the midface, it is common to see an improvement of the tear trough and actually require less filler overall.
Is Filler Safe?
Hyaluronic acid fillers are a natural component of the skin and soft tissues. While filler treatments are performed without complications in the vast majority of cases, there are specific risks patients should know and understand before proceeding with treatment. These include bruising, swelling, lumps, bumps, granulomas (ball like reactions to the product), tissue loss (necrosis), and even blindness. Specific areas of the face are at more risk for serious complications than others and this will be discussed during your consultation. Because the risk of fillers is not zero, it is imperative that you go to an expert in facial anatomy. Dr. Lozada has had extensive training in both facial anatomy, surgical anatomy, and facial injectable treatment with some of the leading experts in the world. His knowledge and expertise provide a safe and relaxing environment to achieve the best aesthetic result for each patient.
Why Should I choose a Facial Plastic Surgeon for my Filler?
Filler is widely available from medspas to dentists offices these days. However, one should seek an expert in facial anatomy and facial injectables. By seeking out a facial plastic surgeon, you ensure you are receiving the highest quality results possible.
Dr. Lozada is a Facial Plastic & Reconstructive surgeon and Otolaryngology Head & Neck Surgeon. Dr. Lozada is committed to providing the highest quality aesthetic and reconstructive services for all his patients in Philadelphia and New Jersey. At our office a personalized treatment plan is essential and we allow sufficient time during consultation to develop a unique understanding of each patient's desires. Dr. Lozada completed his fellowship at the University of Pennsylvania and has trained with the top Facial Plastic Surgeons in Philadelphia, New York, and New Jersey. Dr. Kirk Lozada is currently a member of the American Academy of Facial Plastic & Reconstructive Surgery and has numerous publications and presentations in the field of facial plastic surgery. Contact the office for your consultation today!