Facelift Philadelphia
Facelift surgery—or a rhytidectomy—lifts and rejuvenates the lower face and neck, primarily to address excess skin. Facelift surgery restores the face and neck back to a more youthful appearance. Dr. Lozada, an experienced plastic surgeon, uses the most advanced techniques to achieve natural results that never look "pulled" or "done." If you live in Philadelphia, PA, call (267) 817-4600 to schedule a consultation.
Turn the Clock Back with a Facelift
In the dance of time, facial skin can lose its luster. Our signature facelift rewinds time, bringing back the youthful glow you once had. This personalized approach is tailored to your specific needs. It will rejuvenate your appearance while preserving your unique charm.
1
Revitalized Youthfulness
With our facelift procedure, age becomes just a number. Rediscover your youthful vibrancy and boost your self-confidence after we gently lift and tighten sagging skin.
2
Enhanced Facial Contours
A facelift refines your features to emphasize the natural structure of your face. It will bring out your cheekbones and smooth your jawline to give you a more defined and elegant appearance.
3
Long-Lasting Results
Our facelift offers an enduring solution to aging. Unlike temporary treatments, you will enjoy the rewards of a fresh, youthful appearance that ages gracefully with you.
Before and After Facelift Photos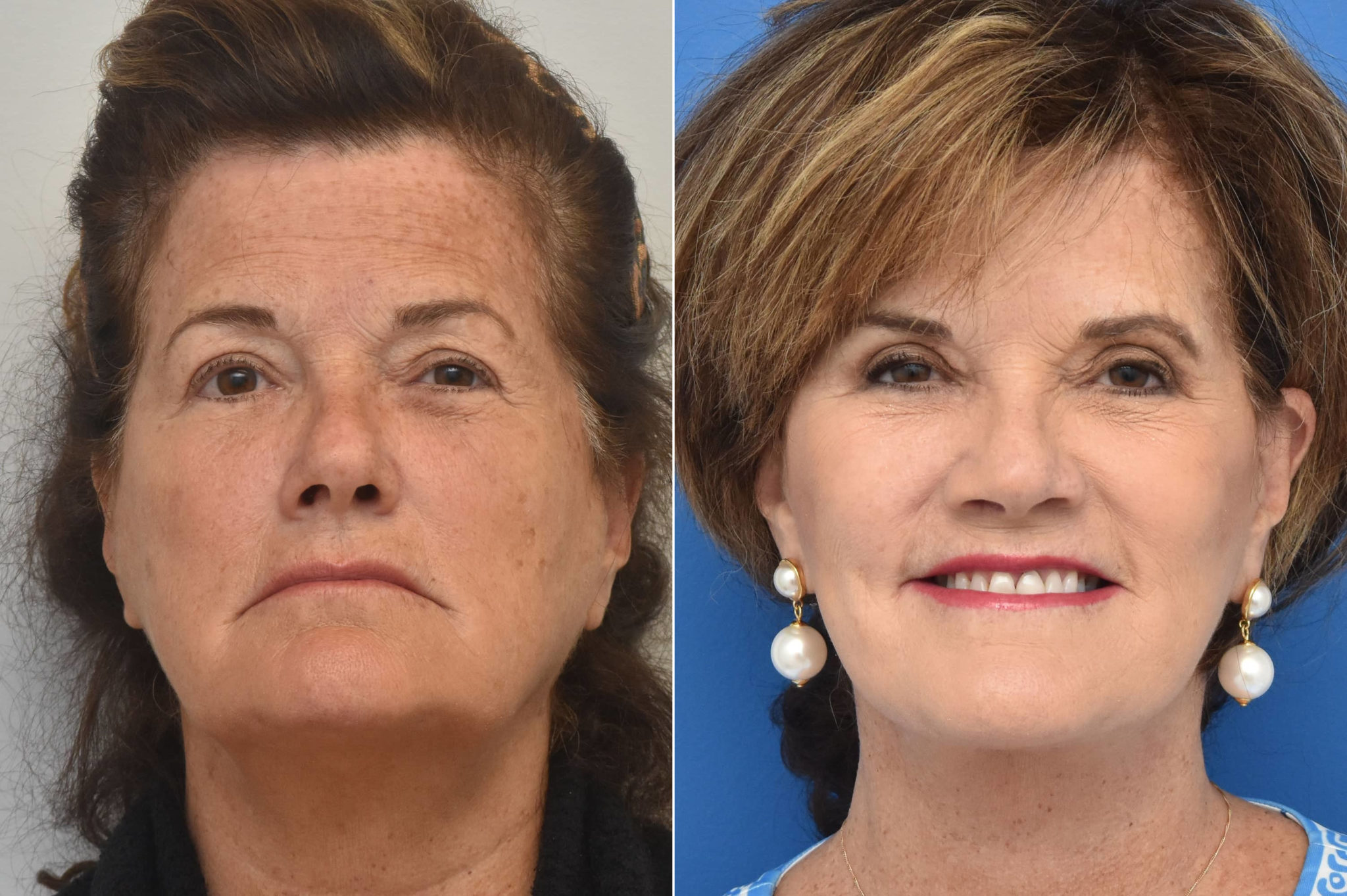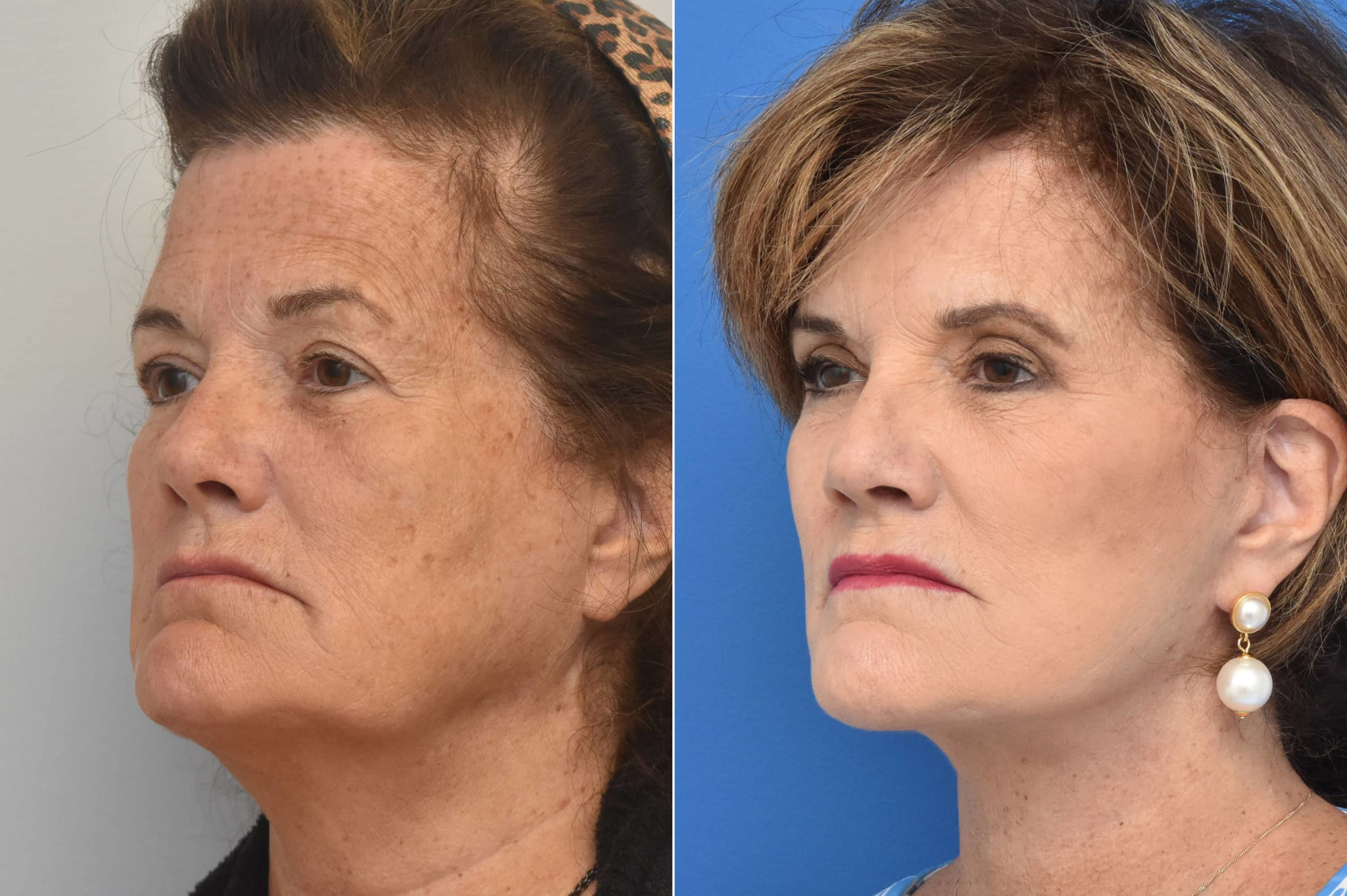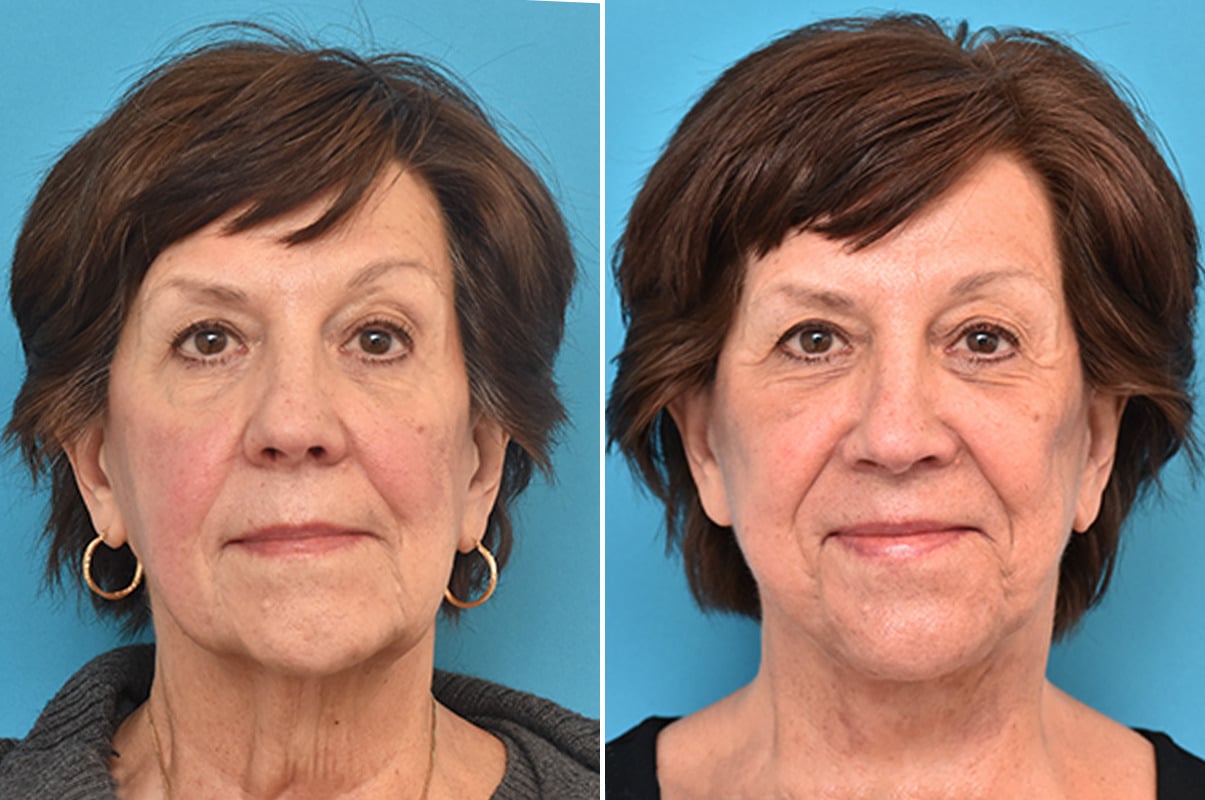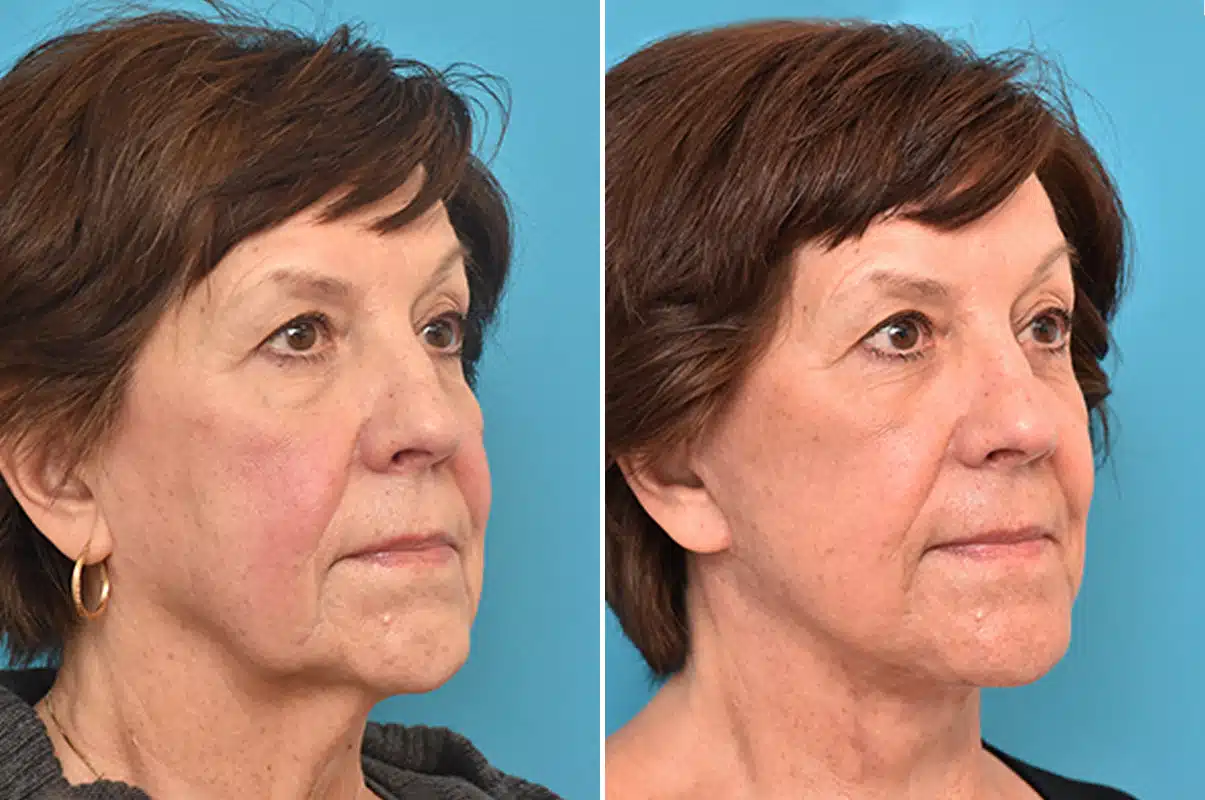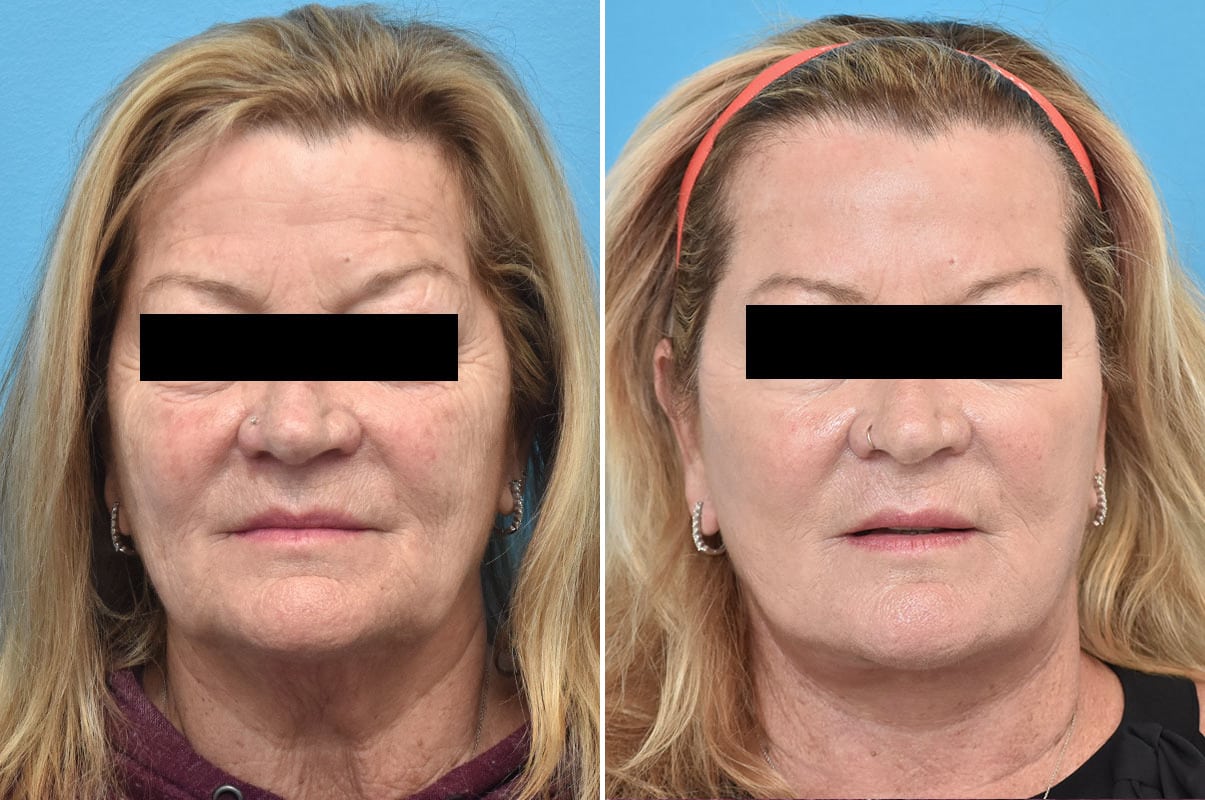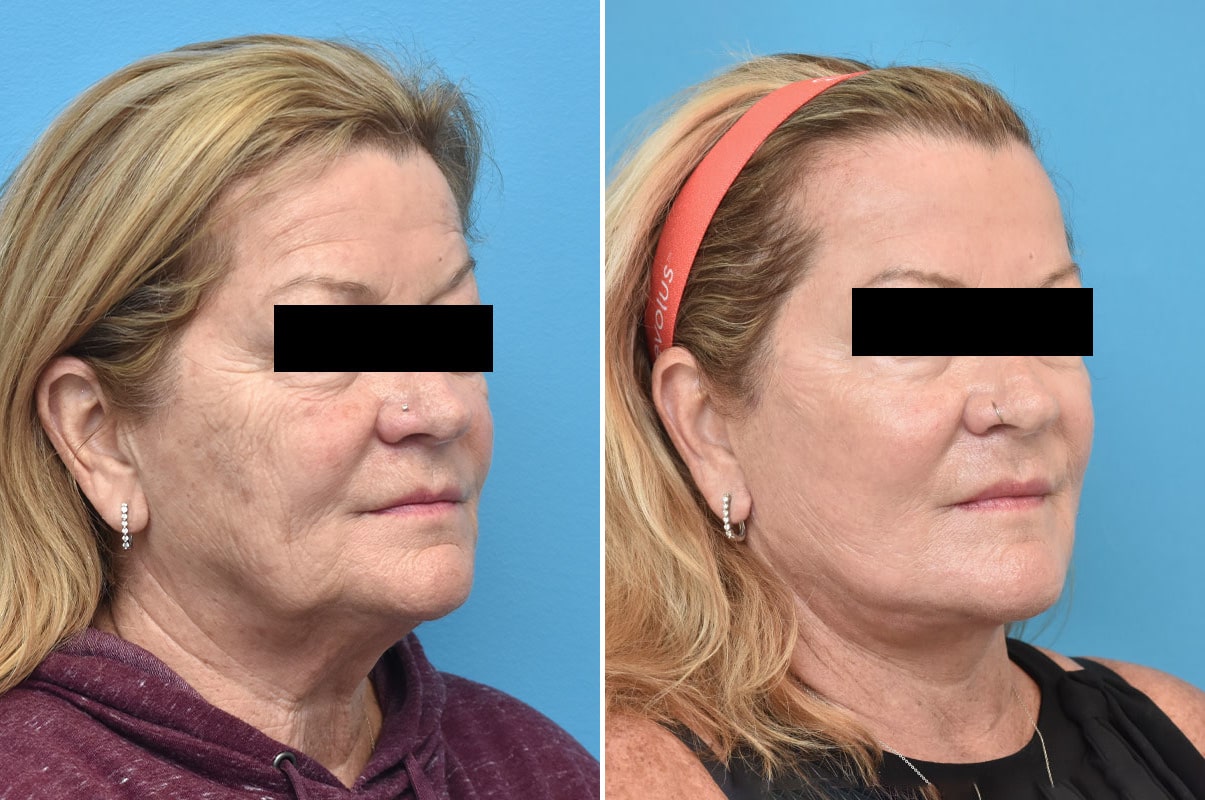 * All patients are unique and individual results may vary.
What is Facelift?
Facelift surgery, also called a rhytidectomy, is a type of surgery that lifts and rejuvenates the lower face and neck. As we age, the skin, fat, and muscles begin to lose their skin elasticity and tone and begin to sag. This causes the well-known signs of aging, including longer jowls, deepener nasolabial folds, and sagging skin in the neck.
The options for a cosmetic procedure include a traditional facelift, a mini-facelift, and a liquid facelift, each with its unique benefits. These facelift options are designed to address your individual needs and preferences. Understanding the benefits of facelift surgery and the cost of facelift surgery will help you to make an informed decision.
Why Choose Facelift?
Facelift surgery is the most effective way to turn the clock back and restore your cheeks, jawline, and neck to a more youthful and refreshed appearance. Minimally invasive treatments can lead to some degree of skin tightening, but nothing equals what can be done with a well-executed facelift.
Am I a Candidate for a Facelift?
Important factors to consider are your health, your expectations, and your lifestyle, especially smoking. Facelift Philadelphia is right for patients who are tired of their sagging cheeks, their jowls, and the sagging skin in their neck. Facelift surgery is a great option, even for those in their 40s, as it will take years off their face and neck and allow them to age gracefully into the next decade. If you've ever pulled back your face and neck skin and wished you had that look, then facelift surgery may be for you!
Best Candidates for Facelift
If you are considering having a facelift, Dr. Lozada will first verify whether you are an ideal facelift candidate. The criteria for good candidates are simple:
Your Skin Should Be Healthy
Your skin needs to be supple, soft, and flexible for surgery. For example, spending time in the sun without sun protection will directly affect your skin's health.
Your Expectations are Realistic
You have realistic expectations and know that you will look like a younger version of yourself. The procedure removes the signs of aging but will not make you look like a different person.
You Are Not a Smoker
Smoking can increase the pigmentation in your skin and cause it to become dull and dry. It makes your jawline sag and creates wrinkles. Hence, it is best not to smoke.
Understanding Facelift: What Is Smas?
The superficial musculoaponeurotic system (SMAS) is the key layer for all types of effective facelift surgery. SMAS is the most important supportive structure of the face. It includes the facial muscles. By lifting the SMAS, we lift the natural fat pads that have dropped over time, placing them into a more youthful and rejuvenated position.
Different Facelift Techniques
Dr. Lozada performs 3 techniques for his facelift surgeries.
SMAS facelift
The superficial musculoaponeurotic system (SMAS) facelift targets the lower part of your face. Dr. Lozada will improve these areas by elevating the fat pads and tightening your cheek and chin muscles. The result is a smooth and youthful face with a natural glow.
Mini Facelift
A mini facelift works wonders for younger people with early signs of aging. It is a minimally invasive process with less recovery time. You will need light sedation for this cosmetic surgery that focuses on the neck and lower face.
Deep Plane Facelift
Deep plane facelift addresses sagging and wrinkles in multiple facial areas. The treatment involves lifting the SMAS, tightening the skin, and trimming off excess skin.
Initial Consultation
During your initial consultation in our office, it's essential that you inform your doctor about any blood thinners you may be taking, as these can affect the procedure and the healing process. We allow sufficient time during the consultation for us to develop a unique understanding of each patient's desires. The result will be a personalized treatment plan for you.
Facelift Procedure
Dr. Lozada's 3-step facelift procedure to youthful skin is as follows:
Step 1: Anesthesia Process
You will be given either general anesthesia or intravenous sedation (not local anesthesia). The best option depends on the patient, and Dr. Lozada will choose what's best for you.
Step 2: Incision Procedure
Your doctor will make facelift incisions depending on what type of facelift you have chosen. For a traditional facelift or a mini-facelift, Dr. Lozada will make small incisions at the front of your ears that make the curve behind them. The incision sites will be chosen carefully to minimize their visibility. These types of facelift are minimally invasive and will work wonders in improving your neck and jawline.
Deep-plane facelifts, on the other hand, take place in the operating room. Dr. Lozada will lift the SMAS all the way from the cheek down to the chin, while keeping the bone structure in mind. This allows the facial fat to smoothen out the sagging neck skin.
Step 3: Closing the Incisions
The doctor will close the incisions with sutures. These either dissolve by themselves, or you will need to visit Dr. Lozada, who will remove them after some days after surgery. Self-dissolving sutures heal and conceal themselves, helping your skin look natural, fresh, and glowing post-surgery.
Recovery from and Side Effects of a Facelift
During day 1 of the recovery process, you will need pain medication and may feel tired and sleepy. On day 2, you will need to visit Dr. Lozada for a follow-up appointment, during which he will assess the area and change your surgical dressings. With proper rest and post-operative care, you can slowly stop using pain medications and will gradually feel better. By day 30, you can get back to your normal schedule if you follow all the prescribed steps to recovery by Dr. Lozada.
Possible side-effects
Wound healing problems
Irregularity in skin tone
Light scarring
Skin numbness
Pain after Facelift surgery
Facelift surgery is not very painful and facelift patients typically require very little pain medication afterward. In the immediate post-operative period, it is common to have a sensation of tightness, but this goes away within the first 1–2 weeks.
Immediately After Facelift Surgery
A dressing will be placed around your face and neck in the operating room. This will stay on for the first 24 hours. It is normal to feel swollen and tight, but the procedure itself is relatively painless. After you are released from the surgical center, it is important to take it easy! Dr. Lozada will call you on the evening of your surgery to check up on you.
The First 24 to 48 Hours After Your Facelift Surgery
Dr. Lozada will see you in his office on the first day after your surgery. He will remove your dressing and check the incisions. When the dressing is removed, you will be given a light compressive chin strap dressing and encouraged to wear it over the next week. It is your job to take it easy and let your body recover from surgery!
The First 2 Weeks After Facelift Surgery
In the first 2 weeks after surgery, you will see an improvement in the swelling and bruising that can occur. After 1 week, any residual bruising can easily be concealed with makeup, and you will feel comfortable enough to go outside. There are no restrictions, aside from avoiding strenuous activity and exercise for 2 weeks after surgery.
Why Should I Choose Dr. Kirk Lozada?
Dr. Lozada is a Facial Plastic & Reconstructive Surgeon and Otolaryngology Head & Neck Surgeon. Dr. Lozada is committed to providing the highest quality aesthetic and reconstructive services for all his patients in the Philadelphia area and New Jersey.
At our office, a personalized treatment plan is essential, and we allow sufficient time during consultation to develop a unique understanding of each patient's desires. Dr. Lozada completed his fellowship at the University of Pennsylvania and has trained with the top American Board Certified Plastic Surgeons in Philadelphia, New York, and New Jersey.
Dr. Kirk Lozada is currently a member of the American Academy of Facial Plastic & Reconstructive Surgery and has numerous publications and presentations in the field of facial plastic surgery.
Frequently Asked Questions about Facelift Surgery
How do I avoid unnatural or weird results after a facelift?
Achieving a natural facelift relies on lifting the SMAS layer without pulling at all on the skin. In the past, facelift procedures were mainly done by lifting the skin alone. Pulling the skin tight creates a pulled, tight, and windswept appearance that is both unnatural and displeasing to the eye. Dr. Lozada always takes care to lift the deeper layers (i.e., the SMAS), but without pulling on the overlying skin. This ensures a natural-looking result that makes you look rejuvenated and youthful but never "operated."
Is it possible to pair my facelift operation with other procedures?
Absolutely! Combining other procedures, such as blepharoplasty (eyelid surgery), a brow lift, fat grafting, or skin laser resurfacing, can lead to better facial rejuvenation. Moreover, you will need only one recovery period.
When will I see the results of my facelift surgery?
When your dressing is removed on the first day after your surgery, you will see a dramatic improvement in the appearance of your face and neck. Swelling and bruising are common after surgery and peak around 4 or 5 days after the procedure but will subside over the next 1–2 weeks.
For how much time could I keep a facelift result?
There are many factors that influence the longevity of a facelift or a neck lift. The most important, perhaps, is the technique. Effective facelift surgery can last 10 years and beyond. It is important to remember that although we can't stop the aging process, facelift surgery helps to reset the clock. Subsequent revision facelift surgery can be performed if small "tuck-ups" are needed, and you will undoubtedly be starting from a much better point once you have had a facelift.
How much I am expected to pay for a facelift?
According to the American Society of Plastic Surgeons, the average cost of a facelift is around $8000. However, the price will vary depending on the surgeon's fee, the anesthesia used, the type of facelift performed, and other factors. Some people may also need to stay in a hospital for one or more nights after surgery, which can add to the total cost.