Botox Philadelphia, PA
Dr. Lozada believes that Botox should not be painful or anxiety-provoking for the patient. If you have experienced painful or uncomfortable Botox injections in the past, call our office to schedule a consultation in our Philadelphia office to experience Painless Botox.
Erase the Lines with Breathtaking Botox Benefits
Botox is the modern-day fountain of youth, offering a refreshing solution to the inevitable signs of aging. It serves as a non-invasive remedy to wrinkles and fine lines, gifting individuals with a revitalized and vibrant appearance that beams with confidence.
1
Wrinkle Reduction
Say goodbye to fine lines and achieve smoother, more youthful skin effortlessly.
2
Quick & Non-Invasive
Dive into a hassle-free procedure with minimal downtime, maximizing convenience.
3
Boosted Self-Confidence
Embrace a refreshed look, amplifying self-assurance in every reflection.
Before and After Botox Photos




* All our Botox Philadelphia patients are unique and individual results may vary.
Fine lines, wrinkles, and loss of skin elasticity can develop for several reasons including aging, genetics, smoking, sun exposure, and even making basic facial expressions such as frowning or smiling. No matter how they develop, facial lines can make you look older and chronically exhausted, which can affect your confidence. If you're concerned about wrinkles but don't want to undergo surgery, then Botox may be the ideal solution for you.
Dr. Kirk Lozada is a facial plastic & reconstructive surgeon and otolaryngology (head & neck) surgeon who specializes in painless Botox injections. Dr. Lozada is committed to providing the highest quality aesthetic and reconstructive services for all his patients in the Philadelphia area and New Jersey. If you're considering Botox, Dr. Lozada can help you quickly achieve smoother, more youthful-looking skin.
What is Botox?
Botox is a non-surgical skin rejuvenation treatment that addresses the appearance of wrinkles and fine lines. It is made from a protein called botulinum toxin. When injected into specific areas, Botox causes temporary paralysis of the muscles, which smooths the targeted area and prevents further wrinkling. It is most commonly used for fine lines in the face and neck areas.
The four major brands of botulinum toxin are Botox, Dysport, Xeomin, and Jeuveau. Each works in the same way, although they do have small differences in the time they take to start working and how long they last.
Providers tend to have their favorite products, but good results are achievable with any of these four brands. Botox is the oldest and most popular product. The injections can also be used with other aesthetic treatments such as dermal fillers to treat those areas.
Who is an ideal candidate for treatment with Botox?
Ideal candidates for Botox treatment are those looking to improve the appearance of forehead lines, facial expression lines, a gummy smile, and other wrinkles or fine lines on the face. Patients should have realistic expectations about their cosmetic goals and be willing to commit to a plan that may require multiple treatments spaced out over time to achieve the desired look. Candidates should also not have any allergies or skin infections at the injection site, as this could cause an allergic reaction.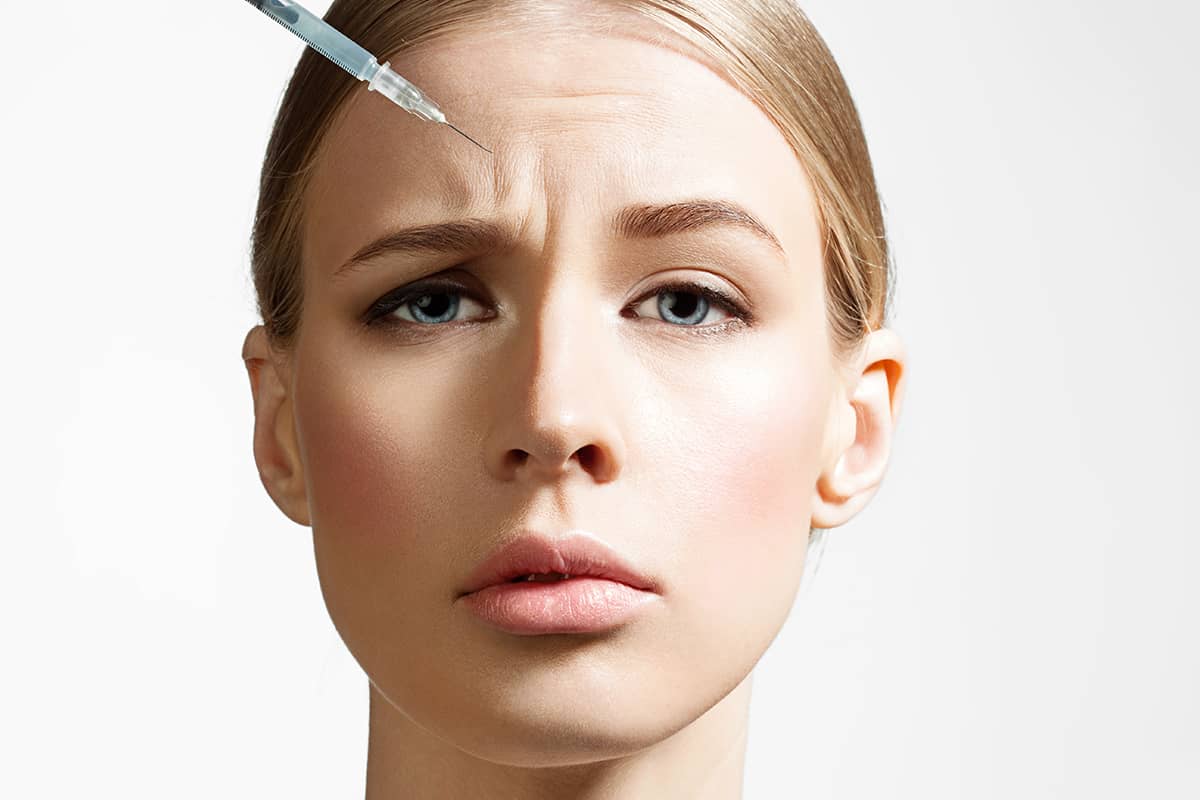 Those seeking Botox treatments should also understand that it is not meant to completely erase wrinkles or fine lines but rather reduce them in order to achieve smoother skin. Additionally, Botox won't help with sagging skin caused by loss of elasticity due to age or sun damage—this type of issue would require more comprehensive treatments such as dermal fillers. However, Botox is an effective treatment for reducing dynamic wrinkles caused by making repeated facial expressions and can restore a more youthful appearance.
How Does Botox Work?
Many facial wrinkles occur due to strong muscle activity when making facial expressions. These facial muscles are connected directly to the skin and facial movement allows the muscles to pull on the skin and cause wrinkling. Botulinum toxin works by temporarily weakening the muscles and eliminating wrinkles.
Botox targets specific muscles and prevents the release of a neurotransmitter that causes the muscles to contract. This causes the muscles to be temporarily relaxed so that they can't cause wrinkled skin. This is particularly useful for improving the quality and texture of the skin. Botulinum toxin is also helpful for treating excessive sweating (hyperhidrosis) and migraines.
The procedure involves using a very thin needle to inject the product into targeted areas of the face. Your doctor may use ice or a topical anesthetic to numb the target area, although this isn't always necessary. It only takes a few seconds to administer Botox, and your doctor may apply it in a number of places around the areas you want to target. The results can be seen in just a few days and can last anywhere from three to six months.

Botox Treatment Areas
Areas typically treated with Botox include the glabellar lines (11's or frown lines between the eyebrows), crow's feet, forehead wrinkles (this is also called a Botox Brow Lift), lines around the mouth, and even under eye bags. By administering botox for under eye bags , the appearance of puffiness and sagging can be significantly reduced. Botox can help reduce the visibility of existing worry lines and also help prevent the formation of future wrinkles with ongoing use, particularly when treatments are started at a young age. Botulinum toxin can also be injected into the armpits and/or palms to help reduce sweating.
Need more information?
Call us or email us to make an appointment
Botox Consultation Process
Your initial consultation, including a discussion with Dr. Lozada, will encompass your aesthetic goals, medical history, and desired outcomes. In addition, Dr. Lozada will provide recommendations tailored specifically to you, taking into account the botox danger zones, and schedule an appointment at your convenience.
Risks and Safety from Botox
Although Botox is considered a very safe aesthetic procedure, some patients do report experiencing side effects after this cosmetic treatment. These could include:
Numbness
Bruising
Swelling
Headache
Neck pain
Temporary drooping of the eyelids
Dry eyes
Rash
Botox Preparation
There is very little you need to do to prepare for your Botox appointment. However, you may want to avoid drinking alcohol or taking blood-thinning medications for a few days before your appointment to reduce the risk of bruising or swelling.
Botox Recovery Time
If you're bothered by fine lines and wrinkles on your face and you're looking for a quick office-based procedure with no downtime, then Botox is a fantastic option. The entire procedure only takes about 10 to 30 minutes, and there is no downtime involved. Many patients come for appointments during their lunch break and then return to work.
You can return to your daily activities immediately. However, you should avoid lying down for about one hour after the procedure and abstain from exercise for about 24 hours to let the Botox settle where it was injected. You should also avoid rubbing the treatment areas or applying pressure for a day or two.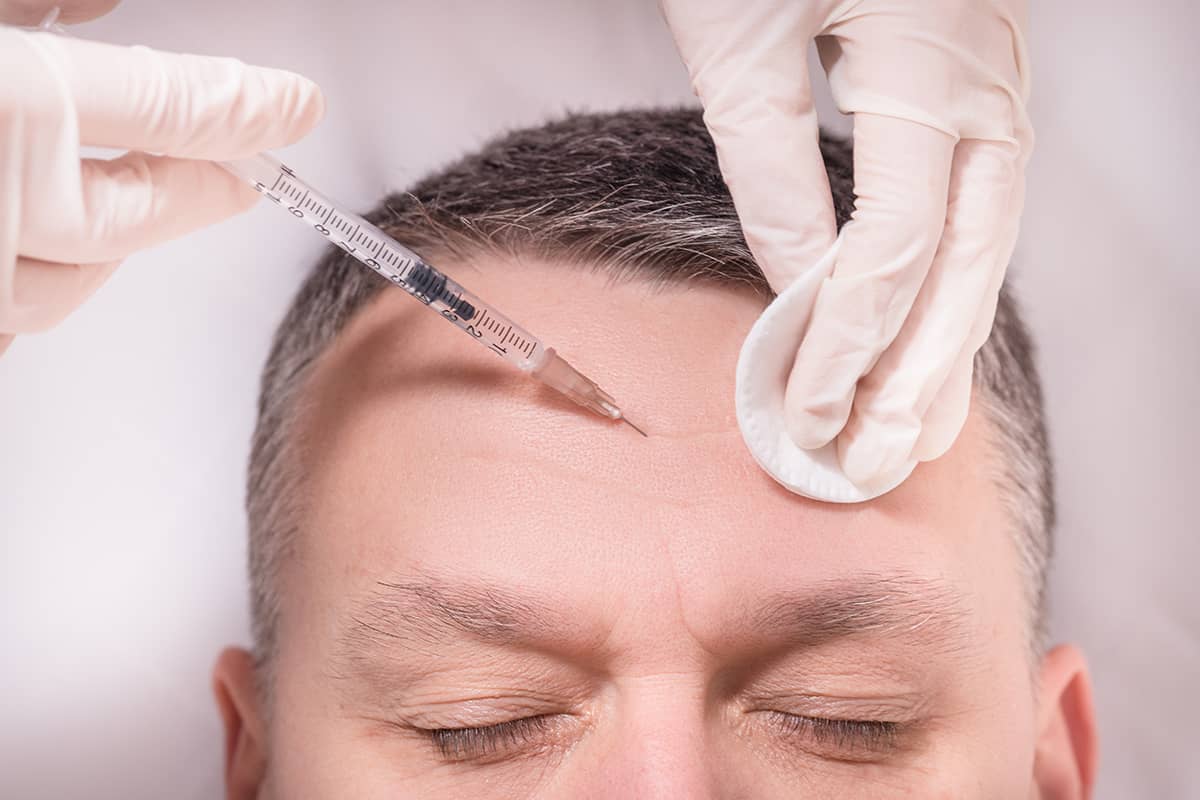 Why Should I Choose Dr. Kirk Lozada?
Dr. Lozada is a Facial Plastic & Reconstructive Surgeon and Otolaryngology Head & Neck Surgeon. Dr. Lozada is committed to providing the highest quality aesthetic and reconstructive services for all his patients in the Philadelphia area and New Jersey.
At our office, a personalized treatment plan is essential, and we allow sufficient time during consultation to develop a unique understanding of each patient's desires. Dr. Lozada completed his fellowship at the University of Pennsylvania and has trained with the top American Board Certified Plastic Surgeons in Philadelphia, New York, and New Jersey.
Dr. Kirk Lozada is currently a member of the American Academy of Facial Plastic & Reconstructive Surgery and has numerous publications and presentations in the field of facial plastic surgery.
What Are Some Alternative Uses of Botox Besides Cosmetic Procedures?
While commonly known for its cosmetic applications, there are alternative ways to use botox that aren't related to enhancing one's appearance. This versatile injectable can treat medical conditions like chronic migraines, excessive sweating, and even help alleviate symptoms of overactive bladder. In recent years, research has been conducted to explore its potential in managing certain muscle disorders and providing relief for individuals with facial pain. The diverse applications of Botox expand beyond aesthetics, demonstrating its versatility in addressing various health concerns.
Frequently Asked Questions
How much does Botox cost?
The cost of this injectable treatment option will depend on which areas you want to treat and how many units you require to treat the target areas. Dr. Lozada can advise you on pricing during your Botox consultation.
How long does Botox last?
Typically, botulinum toxin begins working a few days to a week after it is injected. Peak effectiveness can occur between one to two weeks after the cosmetic injection. Depending on the product used, the effect may start slightly sooner. Results typically last around three to six months. Follow-up treatments are effective in maintaining and improving results.
Is Botox safe?
Botox is a very low-risk cosmetic product that was first approved for medical use by the FDA in 1989. It has been used in the medical field for over 25 years and has an excellent safety profile with numerous indications for its use.
Why should I choose a facial plastic surgeon for my Botox?
Botox is widely available in both med spas and doctor's offices these days. However, you should seek an expert in facial muscle anatomy to ensure the most natural results possible. By seeking out a facial plastic surgeon, you ensure you are receiving the highest quality results possible.
Why hasn't Botox worked for me in the past?
Every bottle of Botox must be diluted with saline. If the solution is diluted too much, it will end up delivering an insufficient dose to the muscle. Patients must be wary when bargain hunting for the best price because they run the risk of receiving diluted Botox that may not last as long or might not work at all. Seeing a qualified facial plastic surgeon ensures a proper dose of Botox is given in each area to maximize results.
Why should I choose Botox with Dr. Kirk Lozada?
At our office, a personalized treatment plan is essential and we allow sufficient time during the consultation to develop a unique understanding of each patient's desires. In addition, we are dedicated to providing the best possible Botox experience with more comfortable facial injections. Dr. Lozada uses a proprietary topical numbing liquid that was formulated by his father, Dr. Guido Lozada, with an extensive experience over 20 years ago. Placing a small amount on the skin numbs the area and can make the injections nearly painless.
Occasionally, thin-skinned patients will not be completely numb but still have a much more comfortable cosmetic treatment compared to other methods. While many providers use a topical numbing cream, this does not effectively anesthetize the area and leaves many patients gritting their teeth through the injections. Vibration devices can be effective, but they do not work well on every patient.
Dr. Lozada believes that Botox should not be painful or anxiety-provoking for the patient. If you have experienced painful or uncomfortable injections in the past, call our office to schedule a consultation and experience a painless cosmetic procedure.