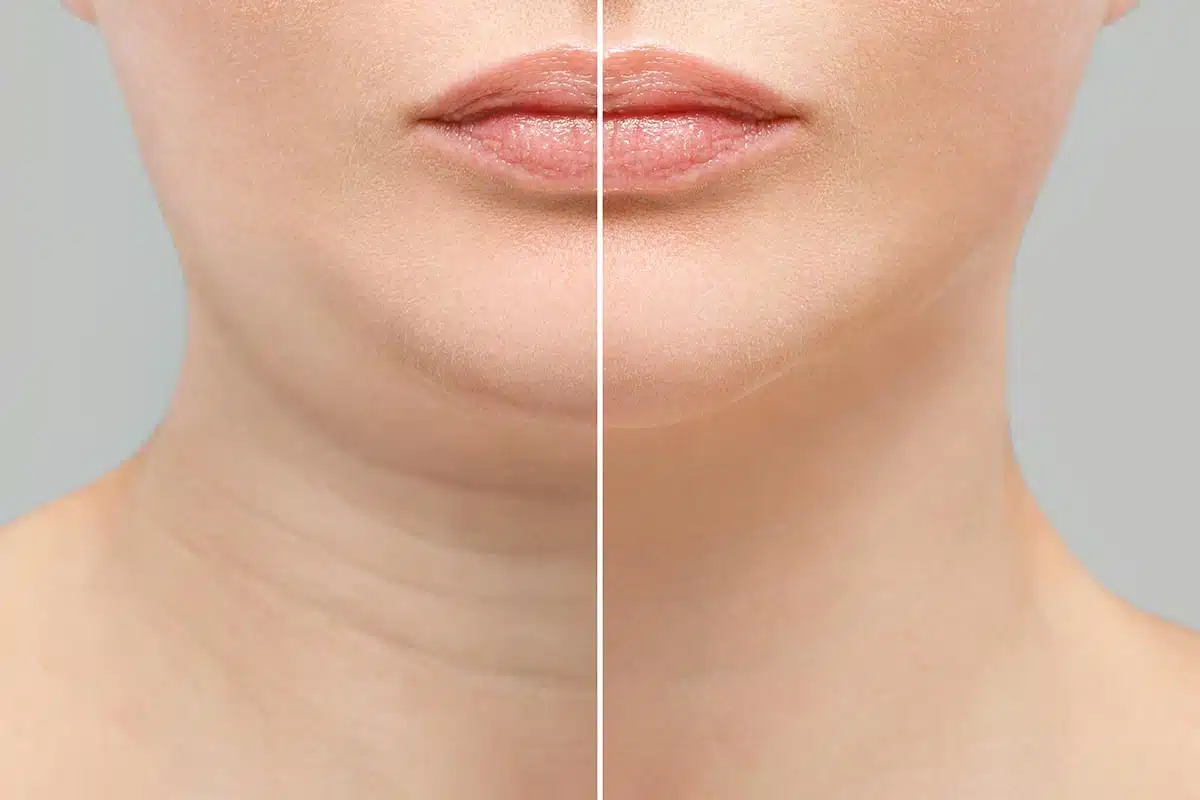 Neck liposuction, mental liposuction, or submental lipectomy, is a widely performed cosmetic surgery that can enhance the chin appearance by creating a more defined jawline and reducing the double chin, especially among female patients. This surgical procedure produces satisfactory aesthetic outcomes, significantly influencing the overall patient satisfaction rate. However, understanding the potential risks and common complications before becoming a candidate for liposuction is essential.
Despite the overall complication rate for neck liposuction being relatively low, with studies indicating rates between 0.3% and 6%, most individuals experience no complications at all. It's critical to be well-informed about the potential risks and complications of this surgical procedure and discuss the best surgical approach with your surgical team before deciding whether to proceed with these surgical techniques.
Understanding the Risks and Complications of Neck Liposuction
Neck liposuction, also known as submental liposuction, submental lipectomy, or double chin removal surgery, is a popular cosmetic procedure designed to define the jawline and mandibular border, and reduce a double chin in the submental region. Despite its satisfying aesthetic outcome, leading to many happy patients, it's vital to be informed about potential risks and complications before proceeding.
The complication rate for neck liposuction is relatively low. Still, to make an informed decision, you should be aware of the following risks and complications associated with neck liposuction.
Complications Associated with Neck Liposuction Procedure
Infection Risks Associated with Neck Liposuction
Infection risks are inherent in any invasive procedures, including neck liposuction. The risk can be minimized with appropriate antibiotic therapy and by choosing a facial plastic surgeon specializing in facial liposuction procedures. However, severe complications like infection can lead to substantial health risks if the procedure is not conducted correctly or with sterile tools by a professional surgical team.
The Risk of Blood Clots During Submental Liposuction
The risk of blood clots during submental liposuction is a viable consideration for individuals looking to achieve a more refined facial appearance. During the surgical procedure, small incisions are made in the submental and submandibular regions in order to access and remove fat deposits from the submental region. This approach can cause damage to blood vessels and the facial nerve, resulting in the formation of hematomas and postoperative complications if not taken seriously.
To reduce this risk, the best option is to have surgery performed in a surgical facility or an ambulatory surgery center as these places are better equipped to handle any potential complications that may arise during operative time. Wearing a chin strap after surgery can also help reduce swelling and improve tissue healing which can further reduce the risk of blood clots forming. To minimize this risk, it's important to choose a qualified and experienced facial plastic surgeon who specializes in facial liposuction procedures and follow their postoperative instructions carefully.
Skin Irregularities and Scarring After Submental Liposuction
Although submental liposuction usually results in minimal scarring, some patients may experience skin irregularities or visible scarring. There's also the risk of skin redundancy due to over-removal of the fat layer, which can be avoided by tailoring the treatment plan with your doctor. Techniques such as using smaller cannulas during surgery and post-operative treatments like laser resurfacing or ultrasound-assisted skin tightening can minimize these issues and improve overall skin tone.
Asymmetry and Nerve damage
Asymmetry, a common risk, occurs due to uneven removal of fat or excess skin in the treatment area. Nerve damage is rare but possible if the liposuction device is improperly placed or excessive suctioning occurs. These risks can be minimized by choosing an experienced surgeon, following postoperative instructions closely, and avoiding strenuous activities during the recovery period.
Risks Associated with Platysma Muscles and Bands
One of the specific complications related to neck liposuction is the creation of platysma muscle bands or a distorted appearance of the platysma muscles due to an aggressive surgical approach or a poor healing process in the soft tissues. The procedure often involves intravenous sedation and requires careful handling of the facial structures to prevent such issues.
How to Minimize Risks
Minimizing risks requires choosing a surgeon specializing in endoscopic techniques and surgical approaches who understands the anatomy of the neck area, including the mandibular border and submandibular regions, and has experience in performing liposuction safely.
Proper recovery times should also be considered, along with adhering to postoperative instructions closely. Beneficial techniques such as utilizing small cannulas for fat layer removal can further reduce risks. Maintain a consistent weight following the procedure to avoid potential long-term risks.
When to Seek Medical Attention for Neck Liposuction Complications
After undergoing an invasive technique such as neck liposuction, it is not uncommon for patients to experience some discomfort or swelling. Major complications, however, such as signs of excessive removal of fat, skin necrosis (tissue death), abnormal bruising around the incision site, fever, rash, or heat emanating from the area being treated, require immediate medical attention.
In the follow-up period, scheduled visits with the surgical team are crucial for monitoring the patient's progress and ensuring optimal outcomes with minimal risk of side effects. In some instances, a patient might have difficulty breathing or swallowing due to interventions on their double chin; in such cases, emergency medical care should be obtained without delay.
The Importance of Choosing a Qualified and Experienced Surgeon for Neck Liposuction
Choosing a qualified and experienced surgeon for neck liposuction is essential for safety and optimal aesthetic outcome. A cosmetic surgeon with extensive training in facial rejuvenation procedures, like Dr. Lozada, can provide excellent results.
They should use advanced surgical techniques to minimize damage to the soft tissues while achieving precise results and offer different types of surgical rejuvenation treatments to enhance the patient's appearance. Patients should also schedule a follow-up visit with their surgeon to ensure the liposuction has been successful and that no further complications have arisen.
Please contact the office and schedule a neck liposuction consultation today!
Neck Liposuction Complications FAQs
Are there any alternative treatments to neck liposuction that may carry less risk?
Yes, there are alternative treatments to neck liposuction that may carry less risk. Noninvasive Options such as ultrasound-assisted liposuction and laser-assisted liposuction are growing in popularity and have fewer risks associated with them compared to traditional liposuction. Additionally, there are several minimally invasive fat reduction treatments available, such as CoolSculpting, Kybella injections, and radiofrequency energy treatments. These treatments can provide similar results to neck liposuction without the same level of invasiveness or risk of complications.
Are there any long-term risks associated with neck liposuction?
While most patients experience excellent results with neck liposuction, it is important to note that there may be some long-term risks associated with the procedure. These risks include nerve injury, scarring, and changes in skin sensation or sensitivity. As such, it is important to discuss these potential risks with your doctor before considering any type of neck liposuction procedure.
Are there any pre-existing conditions that may increase the risks of neck liposuction?
Yes, there are certain pre-existing conditions that may increase the risks of neck liposuction. These conditions include obesity, diabetes, heart disease, high blood pressure, and certain autoimmune disorders. It is important to discuss your medical history and any pre-existing conditions with your surgeon before undergoing neck liposuction to ensure it is a safe procedure for you.
Can you be awake during neck liposuction?
Yes, you can be awake during neck liposuction. Many practitioners use conscious sedation with local anesthetic to reduce discomfort and anxiety during the procedure. During conscious sedation, the patient remains awake but is relaxed and comfortable due to the medication administered. Local anesthetic is used to numb the area being treated so that there is minimal discomfort while the liposuction is being performed.